Business Process Management
The overall goal of business process management is to improve business performance. While defining business processes using manual methods or basic diagramming software is possible, business process management is an active discipline.

- A central repository using the same terminology across all artifacts
- Strategic alignment - long-term strategy, mid-term planning and operational.
- A structure to store, search and navigate artifacts
- Clear accountabilities - cascading from executive leadership, mid-level management, and team level.
- Metrics and reporting
- Version control - continually measured, refined, and updated
- Comparisons over time (current state, and to-be for defined transition states)
- Collaboration across multiple stakeholders and authors
- Manage risks, controls, and links to other supporting documentation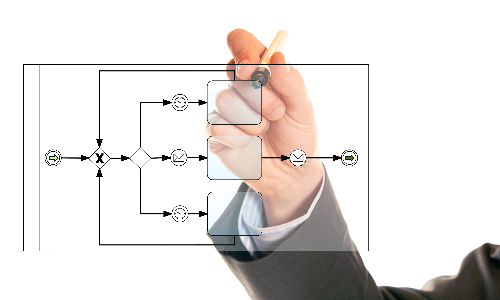 Customer Journey Mapping
Customer journey mapping can help to define, improve, and align the customer's experience through the various interaction channels. Journey maps are not created once and forgotten -- they are continually improved and refined, just like the supporting digital products.
Figma
Figma is our preferred tool for digital whiteboarding, prototyping, creating UX designs, and documenting design systems.
ARIS
ARIS provides a cloud-based, SaaS solution for Process Modeling. You can design and document process information to monitor and analyze processes and their performance.
ARIS express is a free desktop tool for simple process modeling requirements, occasional users, and beginners. Download available here.
SAP Signavio
SAP Signavio is the recommended solution for organizations adopting S4 HANA. SAP learning provides a free course for consultants getting certified which includes hands-on labs.

SAP Signavio Training for Consultants